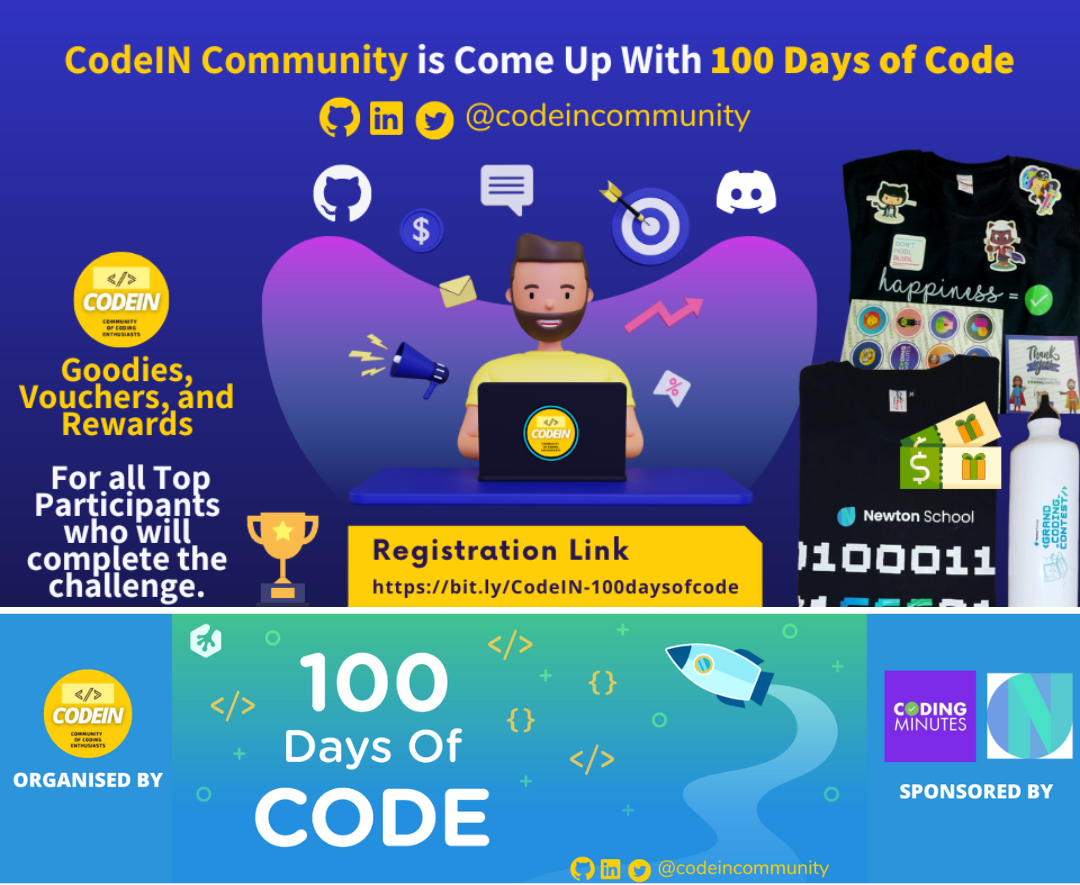 CodeIN Community is come up with 100 Days of Code Program
Hello Folks, At CodeIN Community we are organizing the most awaited program of the year 100 Days of Code 🤩. This program will help you to bring your consistency as well as our mentors will help you to solve your problems.


The program is sponsored by Coding Minutes ✅ and Newton School and at the end of the program all Performing participants who will complete the program will receive Goodies, Vouchers and Rewards 🎁 👕 from our sponsors. 📢 Program starts on: 1st July 2022
Participants need to be active each day from the starting date till the end of the program to be eligible for the challenge. Winners of the program will also get Internship opportunities from our sponsor Newton School. And all eligible participants will receive Goodies, Vouchers and verified Certificates. 🥳


Register here🔥: https://bit.ly/CodeIN-100daysofcode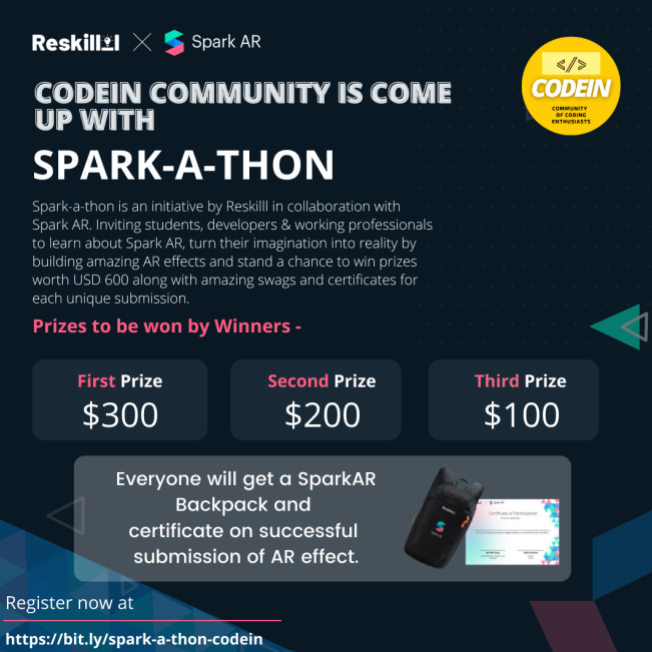 Spark-a-thon a hackathon- By CodeIN Community
Complete the challenge by creating a simple project guided by us and earn a limited edition Backpack by Spark AR.

How is Spark-a-thon different?

🌟 This is a No-code hackathon

🌟 Every participant who submit a project will be getting a backpack as well as a certificate

🌟 Top 3 best AR projects will be cash prizes of $300, $200 & $100

🌟 No prior knowledge is required to participate in this hackathon

🌟 The hackathon is totally AR-based

📌 Register here: https://bit.ly/spark-a-thon-codein


📌 Join the Community groups for further announcements and we will help you to make your project:
❄️Telegram : https://t.me/CodeINCommunity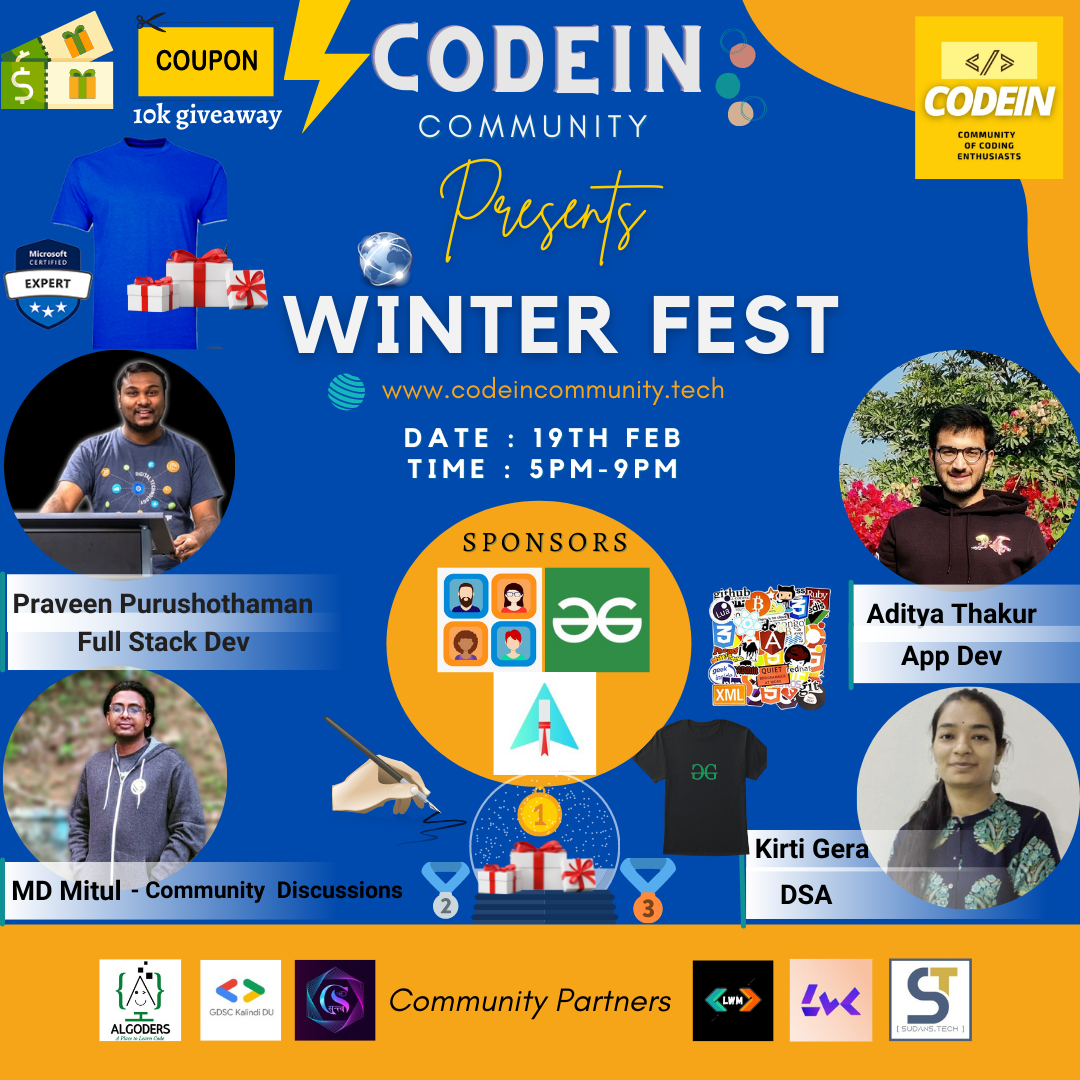 Winter Fest 2022 🧑‍💻
CodeIN community is organizing the much-awaited "Winter Fest" on 19th February. This will be a 4-hour long event on DSA, Web Dev, App Dev, Cloud Computing and Community Discussions and win exciting rewards for Each Track🎁.
Winter Fest will consist of quizzes, contests, and rewards as well. Here are the benefits of joining the session;

- Rs 300 worth GeeksforGeeks coupon Voucher to every participant.🤩
- 10K worth Giveaway During the DSA Session 🙌
- Swags and Goodies by GFG for Web Dev and Android Track Quiz Winners 🥳
- Verified Certificates for Each Participant. 📑
- Goodies from Azure developer Community for the Cloud Track🎁

The fest is based on technical skills and sponsored by GeeksforGeeks, Give my certificate and Microsoft Azure Developer Community.. For Updates regarding the event join us here⏰: _

📄 Register here 🙌 https://reskilll.com/event/codeinewinterfest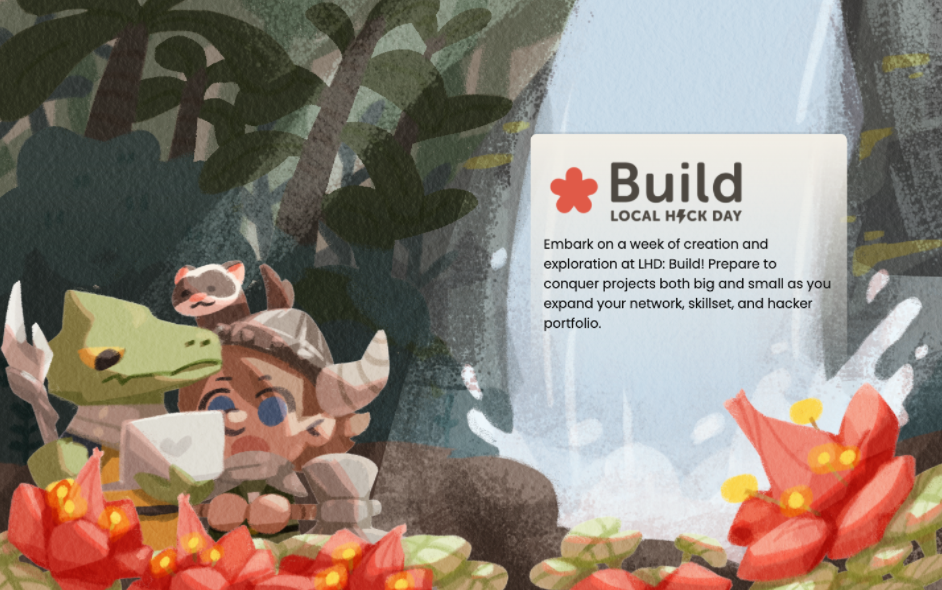 Embark on a week of creation and exploration at LHD
Build! Prepare to conquer projects both big and small as you expand your network, skillset, and hacker portfolio.🤩


Join us January 9th through January 16th!

We know what you're excited for at LHD: Build. We've got some awesome stickers and swag ready to go for every participant. It's simpler than ever for you to earn your swag.

After you've completed our registration challenges, you'll have earned yourself:
- An MLH Sticker 🤩
- A Season Mascot Sticker❤️
- An LHD:Build Hexagon Sticker🙌
- A Thank You Postcard 🏞️

📌Steps for Participation: Step 1: Register here🔥: https://organize.mlh.io/participants/events/7191-local-hack-day-build-2022
Step 2: Fill this form: https://bit.ly/MLHBuild ( Referred email: mesouravofficial@gmail.com)

That's it! You are now ready to participate in MLH Local-Hack-Day: 2022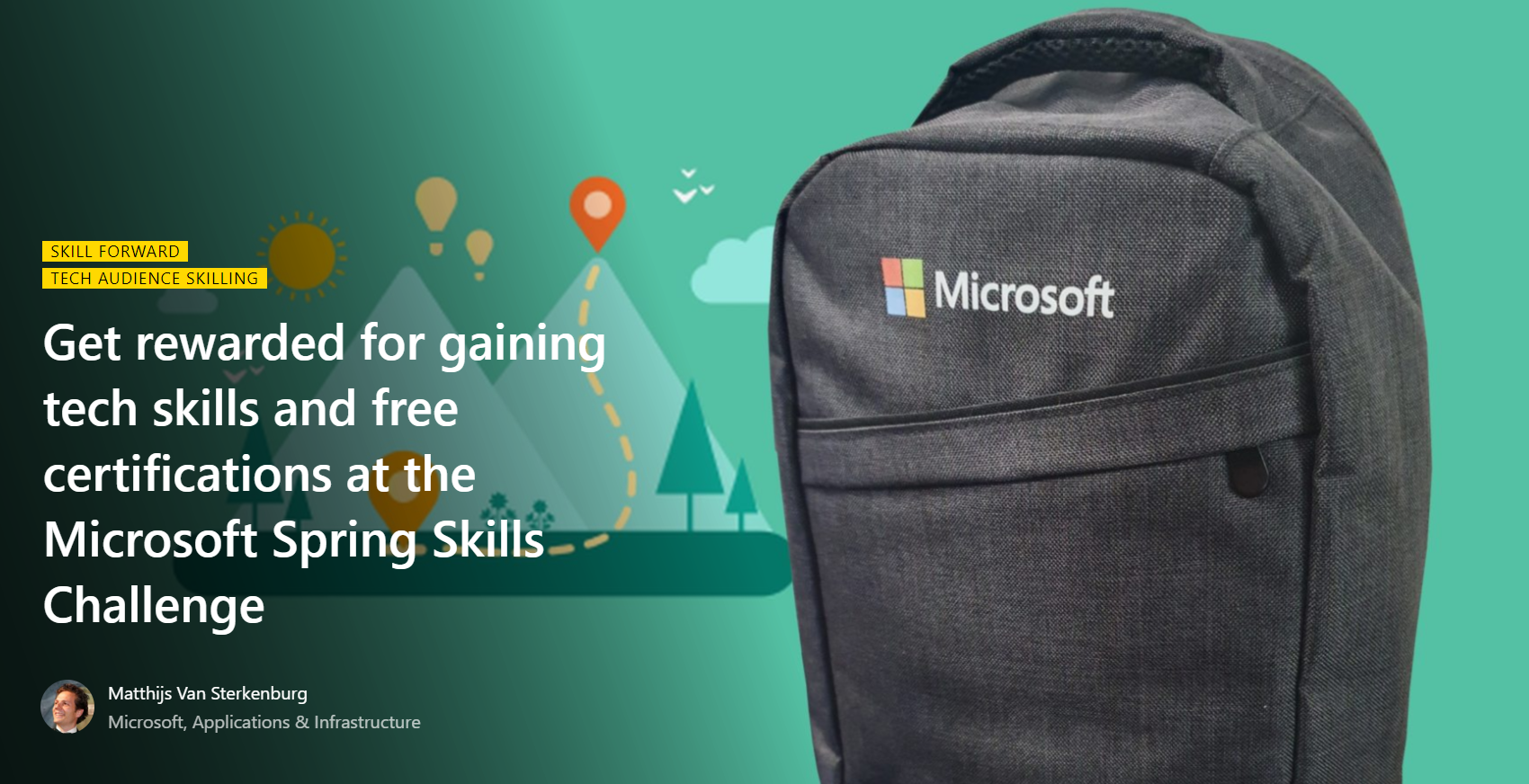 Get rewarded for gaining tech skills and free certifications at the Microsoft Spring Skills Challenge🥳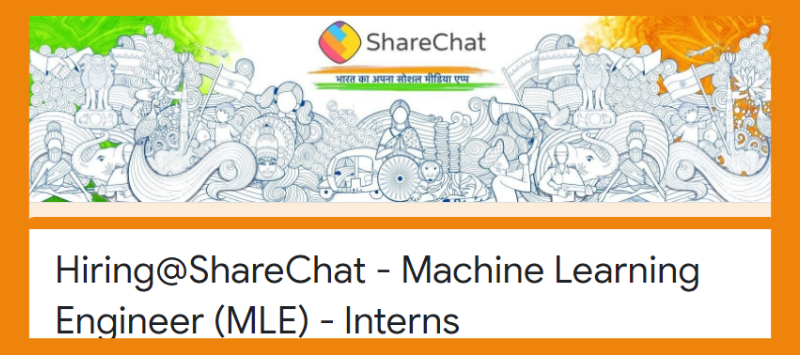 Internship Opportunity at Sharechat ✨.
📌📌ShareChat is a well-funded (Series F) Organisation with a mission to build meaningful social experiences for Bharat 2.0. https://we.sharechat.com/


We are solving some of the cutting edge problems in AI, Engineering, Product, and operations using sophisticated Data Science, large scale data sets & distributed Engineering stack and have top tier talent across India, UK & US locations. 𝐀𝐭 𝐒𝐡𝐚𝐫𝐞𝐂𝐡𝐚𝐭, 𝐰𝐞 𝐭𝐫𝐮𝐥𝐲 𝐩𝐫𝐢𝐝𝐞 𝐨𝐧 𝐨𝐮𝐫 𝐭𝐚𝐥𝐞𝐧𝐭 𝐝𝐞𝐧𝐬𝐢𝐭𝐲 𝐚𝐧𝐝 𝐚𝐧𝐜𝐡𝐨𝐫 𝐨𝐧 𝐬𝐭𝐫𝐨𝐧𝐠 𝐜𝐨𝐦𝐩𝐞𝐭𝐞𝐧𝐜𝐞, 𝐠𝐫𝐨𝐰𝐭𝐡 𝐦𝐢𝐧𝐝𝐬𝐞𝐭, 𝐥𝐞𝐚𝐫𝐧𝐚𝐛𝐢𝐥𝐢𝐭𝐲.


📌Apply here🔥: https://docs.google.com/forms/d/e/1FAIpQLSdJXkI0SyTKKZyxU-ite55LlhHi_bMtoX2U-Y9NAAlWT1VpLw/viewform


Requirements :
🌟 We are looking for MLE interns for our Data Science team who have prior experience in backend systems or optimizing models from research to production
🌟 Familiar with metrics for evaluating ML models, algorithm design and validation
🌟 Strong software development fundamentals and ability to write clean high-quality code

Internship Duration : 3- 6 months (Remote)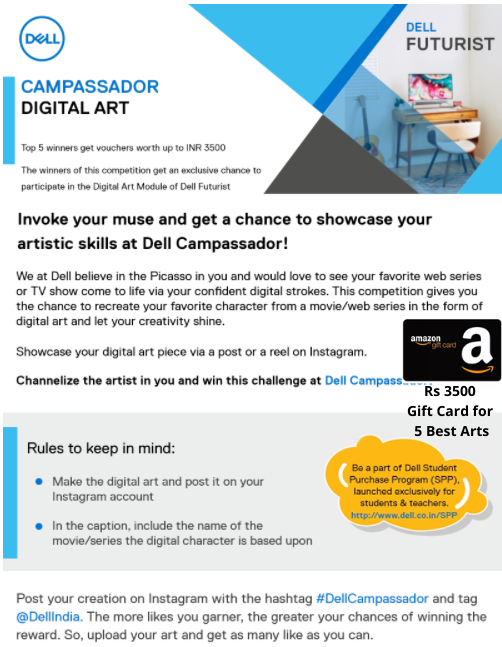 DELL DIGITAL ART COMPETITION
We at Dell believe in the Picasso in you and would bye to see your favorite web series or TV show come to life via your confident digital strokes.


This competition gives you the chance to recreate your favorite character from a movie/web series in the form of digital art and let your creativity shine. Showcase your digital art piece via a post or a reel on Instagram. Register Now!


📌 Top 5 winners will get Rs 3500 Amazon pay Gift Card 🤩 Rules to follow: * Make the digital art and post it on your Instagram account • In the caption. include the name of the movie/series the digital character is based upon 5 Best Arts * Copyrighted content will be disqualified.
📌📌Last Date of Submission: 11th January, 2022 Dont't miss out on the deadline!


✨Submit your Arts now! https://www.delloffers.in/campassador/digitalart (In Dell Campassador Email ID : mesouravofficial@gmail.com )


Join the group for such more Dell programs, contests, opportunities, offers ...


❄️WhatsApp Group for Updates: https://chat.whatsapp.com/EzF3iZHT28K4Lp1JBOA1cg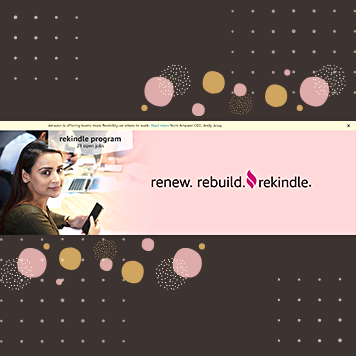 Amazon | Hiring Software Development Intern 🥳🥳
Complete the challenge by creating a simple project guided by us and earn a limited edition Backpack by Spark AR.
Rekindle Position
Stipend: 1lakh+ per month

➡️ Only for women.
➡️ Easy Interview process.


What is rekindle? It s an initiative by Amazon to provide a launch pad to women who have taken a break in their careers due to any circumstances. Through this initiative, Amazon India aims to provide opportunities and support women to professionally re-integrate themselves and resume their corporate career.


Rekindle: https://bit.ly/34i2UuL


Apart from LinkedIn, you can fill the Application on amazon job portal as well. Job ID: A1519584
Apply here if you use linkedin🙌: https://www.linkedin.com/jobs/view/2608825615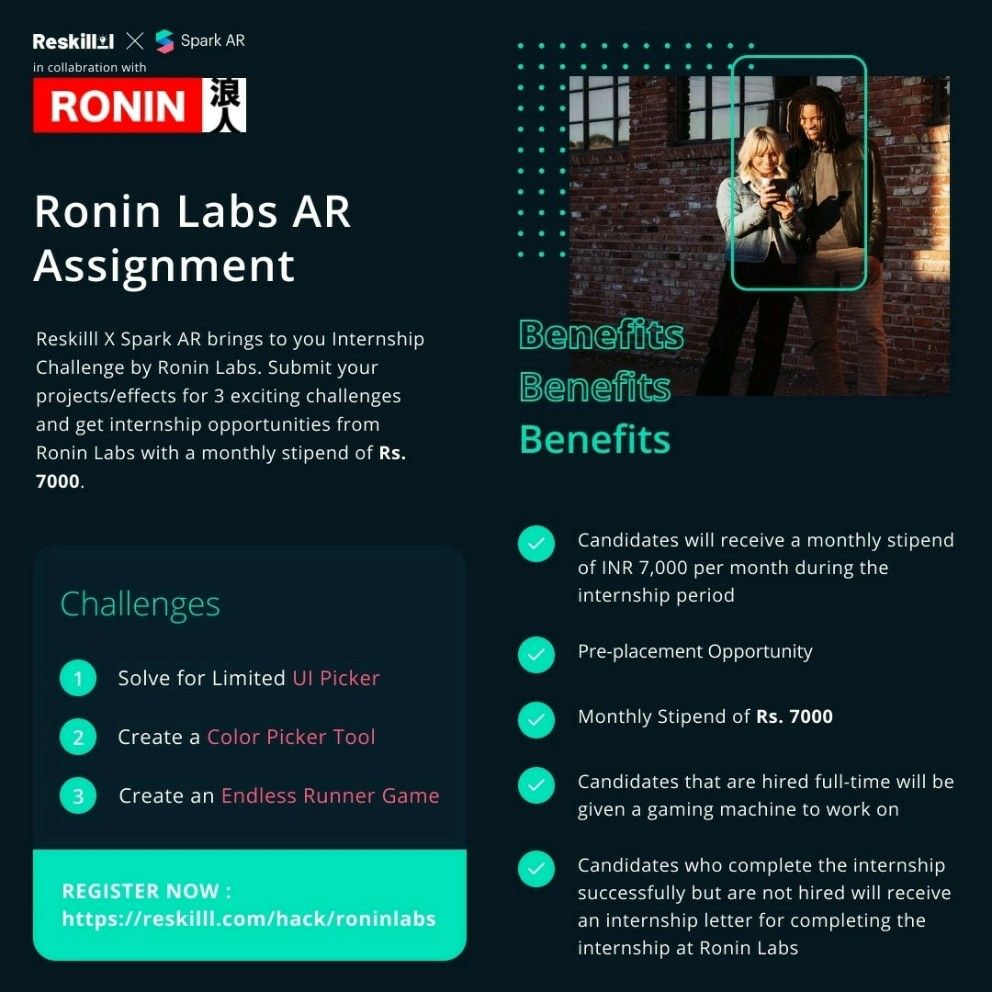 Internship Challenge by Ronin Labs is brought to you by Reskilll🤩 X Spark AR✨.
Submit your projects/effects for three fascinating challenges, and Ronin Labs will offer you an internship with a monthly stipend of Rs. 7000.✨✨


Apply here🔥: https://reskilll.com/hack/roninlabs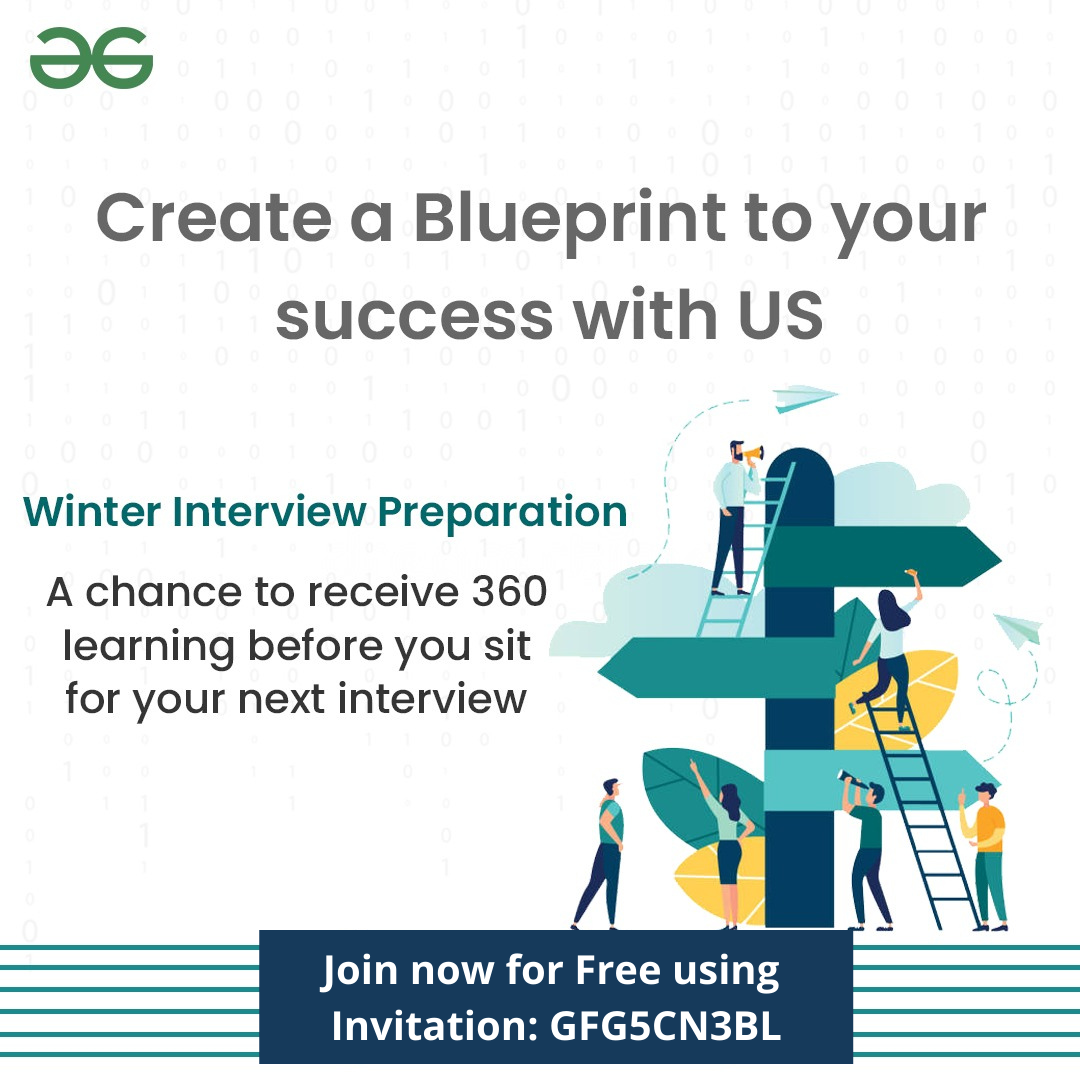 📌Winter Interview Preparation course from Geeks for Geeks(100% off) Invitation only.
Special Things always Take's Time and add value to you,This time after a while GeeksforGeeks has brought you the Warmest Winter Surprise.


What you will learn:-
🌟 Necessary tips and tricks for a Successful Job Interview.
🌟 Do's and Don'ts in a Technical Interview.
🌟 How to approach and explain the solution of a problem in a technical interview.
🌟 Writing Clean and Efficient Codes during an Interview.



To know more, Click here & Register🔥:- https://bit.ly/WinterInterviewPreparation
📌Invitation Code: GFG5CN3BL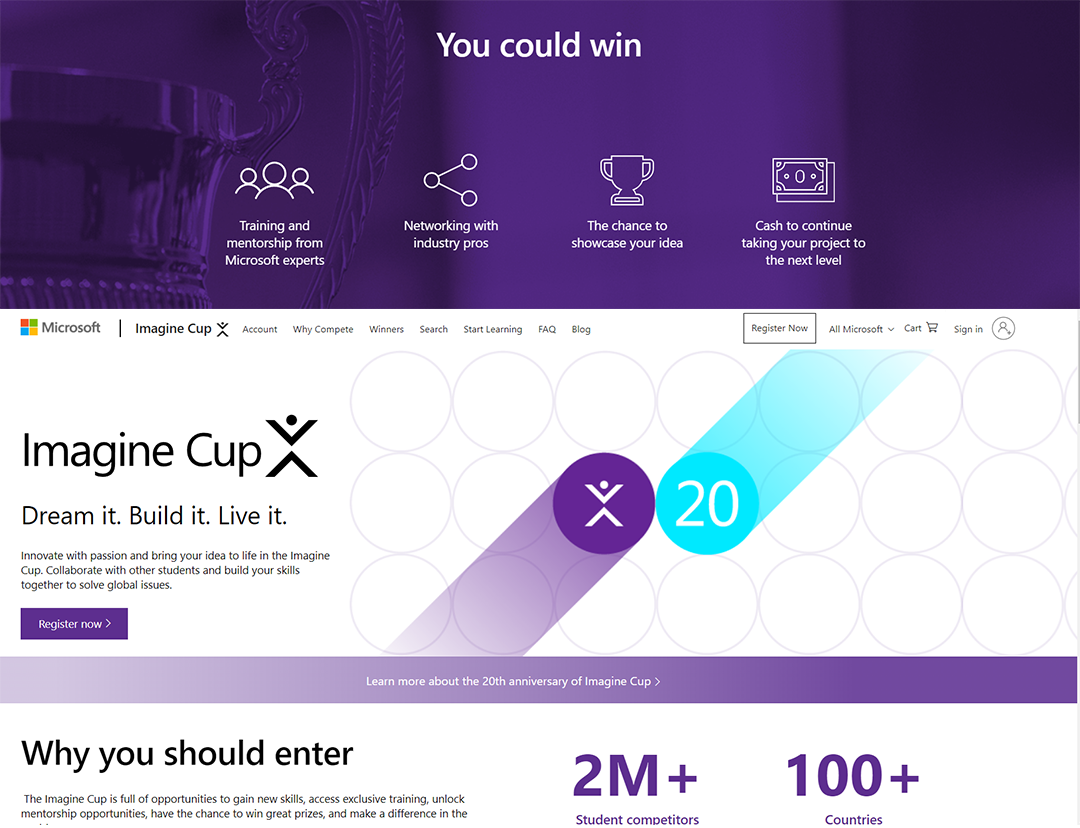 Dream it. Build it. Live it.😎
Microsoft is come up with Imagine Cup. 🏆 Innovate with passion and bring your idea to life in the Imagine Cup. Collaborate with other students and build your skills together to solve global issues.


The Imagine Cup is full of opportunities to gain new skills, access exclusive training, unlock mentorship opportunities, have the chance to win great prizes, and make a difference in the world.🥳


📌Register here🔥: https://imaginecup.microsoft.com/en-us/Events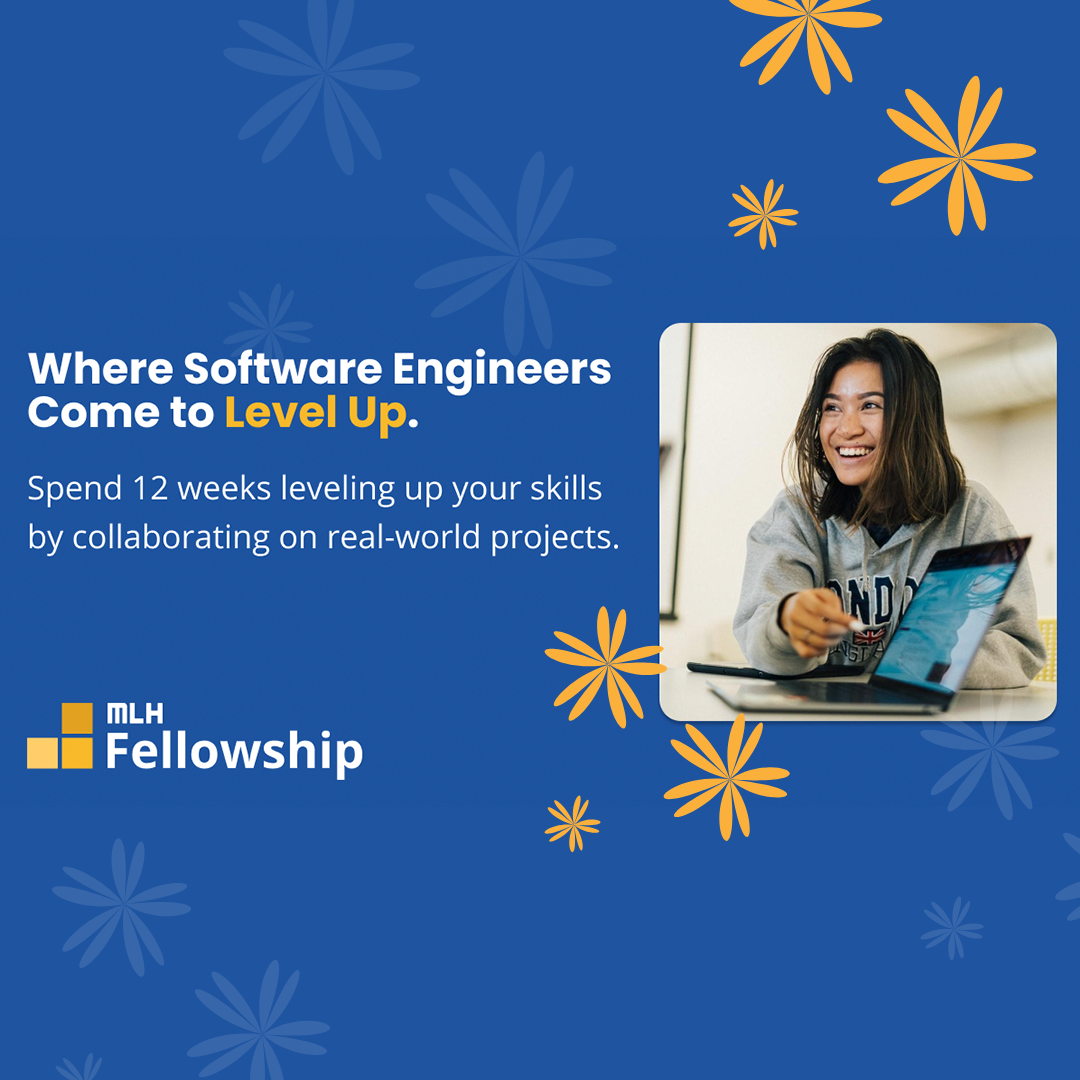 Fellowship Applications are Open!🤩
Applications to the spring semester of the MLH Fellowship are now open! The MLH Fellowship is a 12 week internship alternative for aspiring software engineers. You'll build out your portfolio of personal projects & experiment with new technologies while collaborating in small groups. Apply today -- this spring we anticipate running two tracks giving you the chance to contribute to open source projects and create proof-of-concept projects.


Accepted MLH Fellows are granted a stipend for living expenses, and MLH partners often make job offers to participating Fellows. Supercharge your skills, work with tech professionals, and build features in a production environment with the MLH Fellowship. Applications are open until January 17th for the spring semester, running January 31st through April 22nd, 2022. Learn more here and apply today


Apply Link🔥: https://fellowship.mlh.io/programs/open-source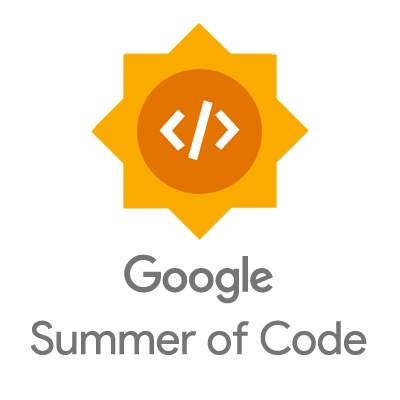 Google summer of code (GSOC) Summer opwn source program Opportunity by google
The Google Summer of Code, often abbreviated to GSoC, is an international annual program in which Google awards stipends to contributors who successfully complete a free and open-source software coding project during the summer


Eligibility Requirements For Participation ?
🌟 You must be at least 18 years of age when you register
🌟 You must be eligible to work in the country you will reside in during the program.
🌟 You must be an open source beginner.
🌟You must reside in a country that is not currently embargoed by the United States.


To know more, Click here 👇:- https://summerofcode.withgoogle.com/


prizes



~ Participation Certificates 📃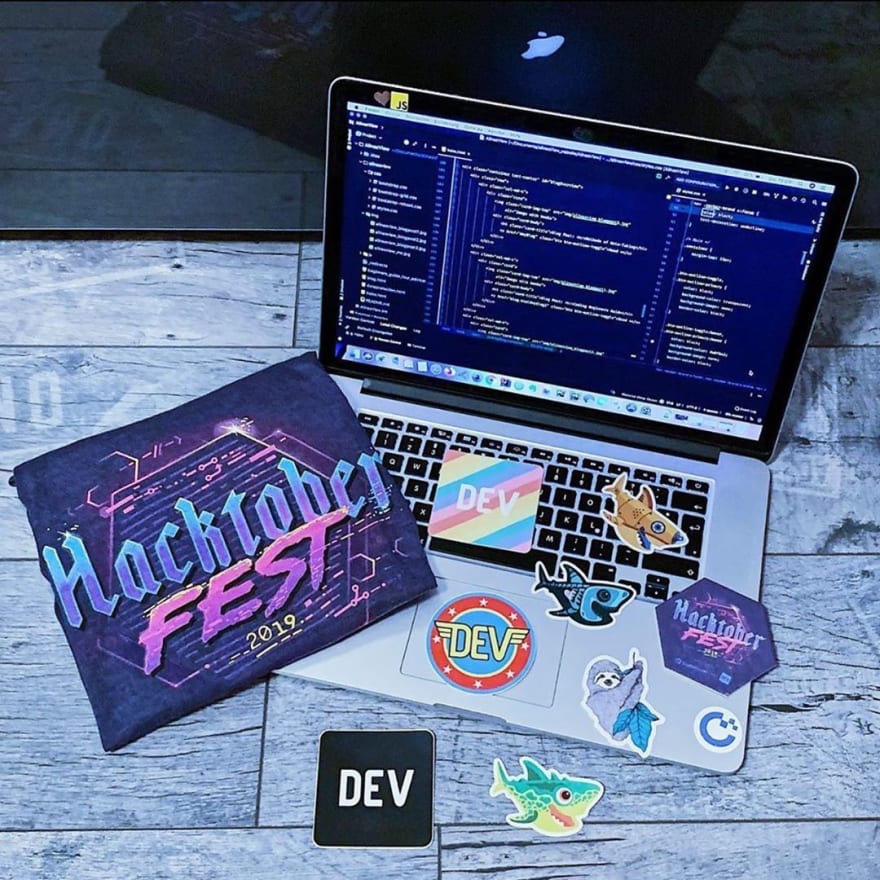 Hacktoberfest is live! 😍
Hacktoberfest is an event hosted by DigitalOcean that partners with many organizations. The goal is to give back and contribute to open-source projects. The organizers offer little incentives for a job well done, like a shirt and stickers. Other organizations also get involved by offering their own rewards


T Submit 2 pull requests to receive a Flyte mug; 3 pull requests to receive a Flyte t-shirt; 3+ pull requests to receive The North Face® jacket; contribute a plugin to receive a voucher

https://hacktoberfest.com/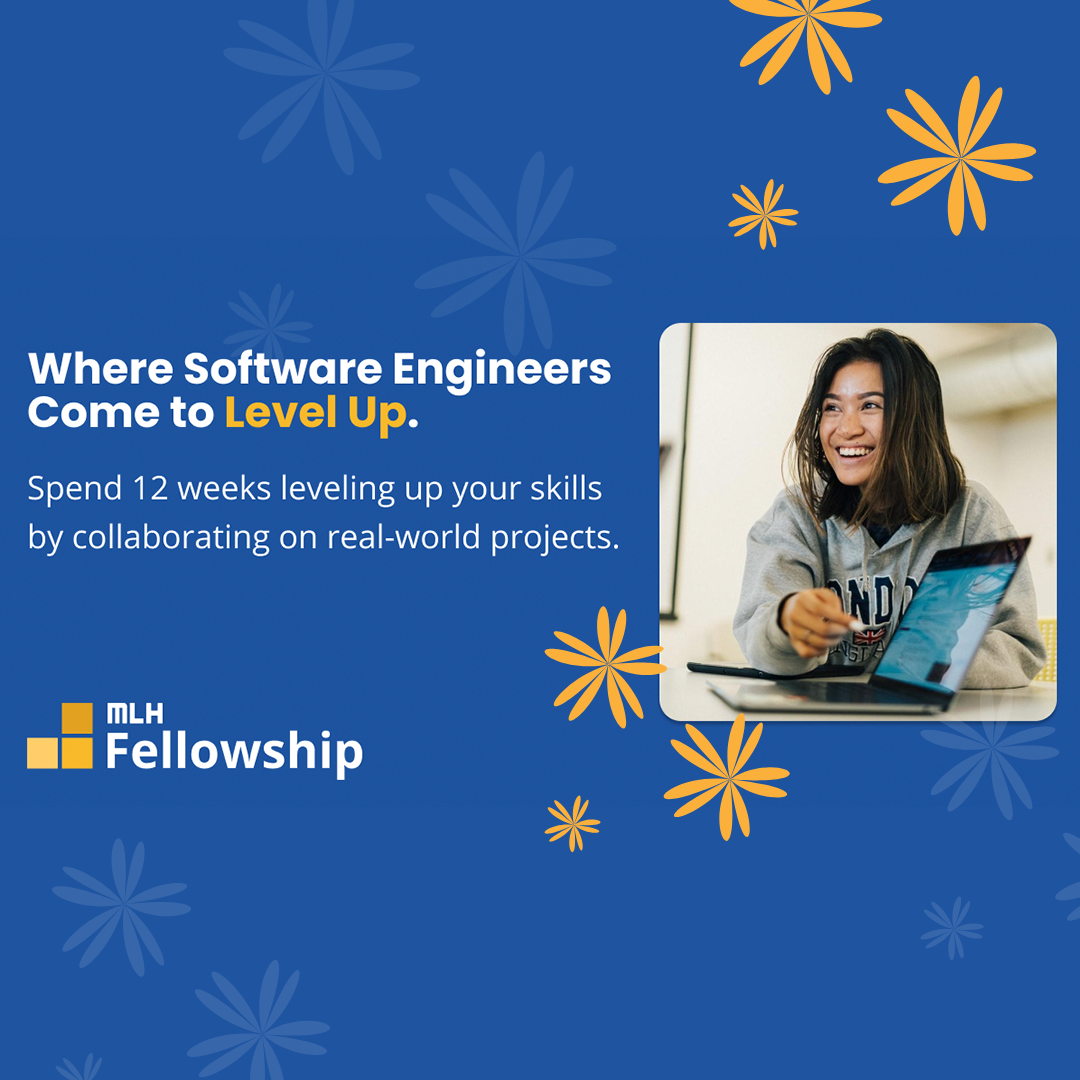 Morgan Stanley Spring Analyst Program 2022 [Mumbai / Bangalore; 6 Months]!🤩
About the program:-
Training commences with an induction day that provides an overview of the Firm, their structure and strategy as well as guidance on making the transition from campus to corporate environment.
Following direct placement into teams, Summer Analysts work on live projects of real relevance to Morgan Stanley.
Throughout the Program, students experience guest lectures with senior management, and have opportunities to attend networking, team building, social and charitable events.